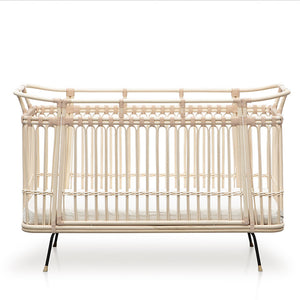 Bermbach Handcrafted Cot - PAUL
Normale prijs €1.095,00 Sale
The latest member of the BERMBACH - model range is PAUL, in which parallel lines and curves harmonise perfectly.
PAUL prolongs the usability of the bed by allowing an element to be removed. So the little ones can crawl out of bed and into bed independently as soon as they are big enough.
Like the other beds, PAUL combines its lightness with great stability. Especially here, steel and mango wood feet harmonise perfectly with the shapes of the bed. As with the other models, the body and feet are connected with screws.
Ideal for:
Infants / children up to 6 years of age.

Available accessories:
KBA-certified ecological mattress (130 x 70 cm).
Note: For a shipping quote of the PAUL cot outside the NETHERLANDS please send us an email: info@elenfhant.com before placing an order.