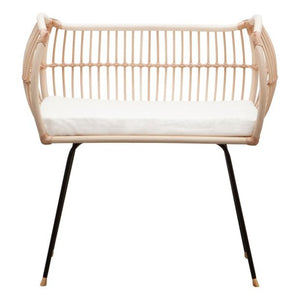 Bermbach Handcrafted Bedside Crib - Martha
Normale prijs €822,00 Sale
Co-sleeper Martha from BERMBACH Handcrafted.
The baby lies very close to its parents and yet in its own slumber realm in the side bed MARTHA. A protective, outwardly curved basket wall surrounds the small sleeping place like a protecting nest. At the same time, a flat long side of the basket opens up a direct connection to the parents' bed. If required this side can be closed by the extra element supplied simply with 4 screws so that the bed can also stand alone.
The side bed has height-adjustable metal feet with which MARTHA can be adapted to different bed heights. Like the other bed models of this bed also Bermbach distinguishes itself by a light, transparent design, which one does not notice its stability at all. Narrow straps made of vegetable-tanned natural leather connect the rods of the basket and give all bed models great strength and elasticity at the same time. Even with MARTHA, small mango wood feet provide a good and secure floor support for the underframe.
Mattress (optional):
KBA certified ecological mattress.
Product details:
Age: Newborns and babies up to 6 months.
Size: length: 80 cm / width: 50 cm / height: 40 cm + feet 30-50 cm.
Material: Rattan, steel and mango wood.
Note: For a shipping quote of the MARTHA crib outside the NETHERLANDS please send us an email: info@elenfhant.com before placing an order.